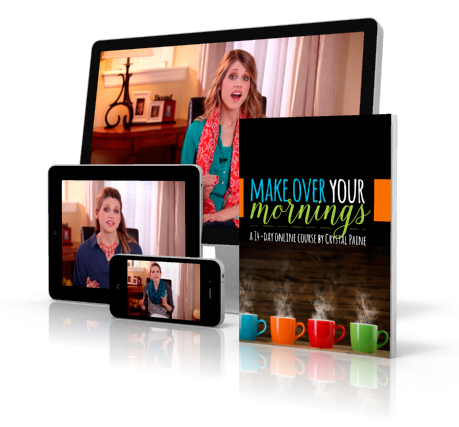 A good morning will set you up for a great day! Join Crystal in this 14-day course and get the help you need to create a morning routine that actually works for you and your family — 
even if you aren't a morning person! 
Crystal's stress-free, grace-filled approach will leave you feeling energized to make positive changes with proven strategies that will make a difference for the long-term!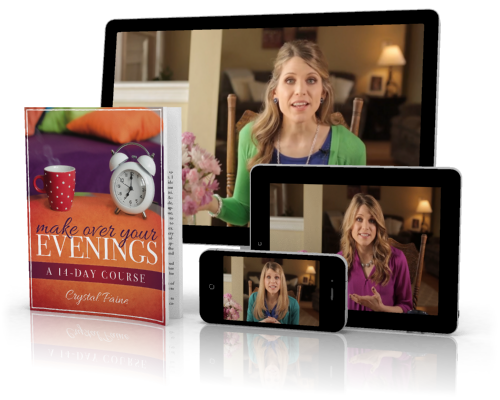 The sequel course to Make Over Your Mornings! Crystal is back in another energizing and inspiring full-length course where she shares her unique perspective, tips, and strategies to help you streamline your evenings and build a routine that works for you. In this 14-day course, Crystal will teach you how to maximize your evenings in order to experience more success in your life, more order in your home, and more joy in your soul.
The Time Saving Mom

In her newest book Time-Saving Mom, Crystal offers practical steps, simplified systems, and time-saving hacks to help you wrap your time and energy around what matters most in your life — even when you feel pulled in a thousand different directions.
Love-Centered Parenting: The No-Fail Guide to Launching Your Kids

In this book, Crystal shares the life-changing lessons that God has been teaching her about raising kids with love and grace.
Money Making Mom

In Money-Making Mom, finance and family blogger Crystal Paine shares real-life stories, practical tips, and hard-won wisdom from the failures and successes that have carved her family's path to financial freedom.
Say Goodbye to Survival Mode

Packed with straightforward solutions you'll use today and inspirational stories you'll remember for years, Say Goodbye to Survival Mode is a must for any woman who's ever longed for the freedom to enjoy life, not just survive it.
21 Days to a More Disciplined Life (Kindle)

Learn new strategies that will help you set and meet your goals! With Crystal's easy-to-follow approach, you'll discover how to set your goals, expose your obstacles, and accomplish more without compromising what matters most.
The Money Saving Mom's Budget

Crystal Paine, who has helped busy women everywhere take control of their finances, presents her most effective strategies designed for families of all sizes and income levels. With hundreds of inspiring "why didn't I think of that?" tips, plus worksheets, Paine breaks down your goals into easy, manageable steps.